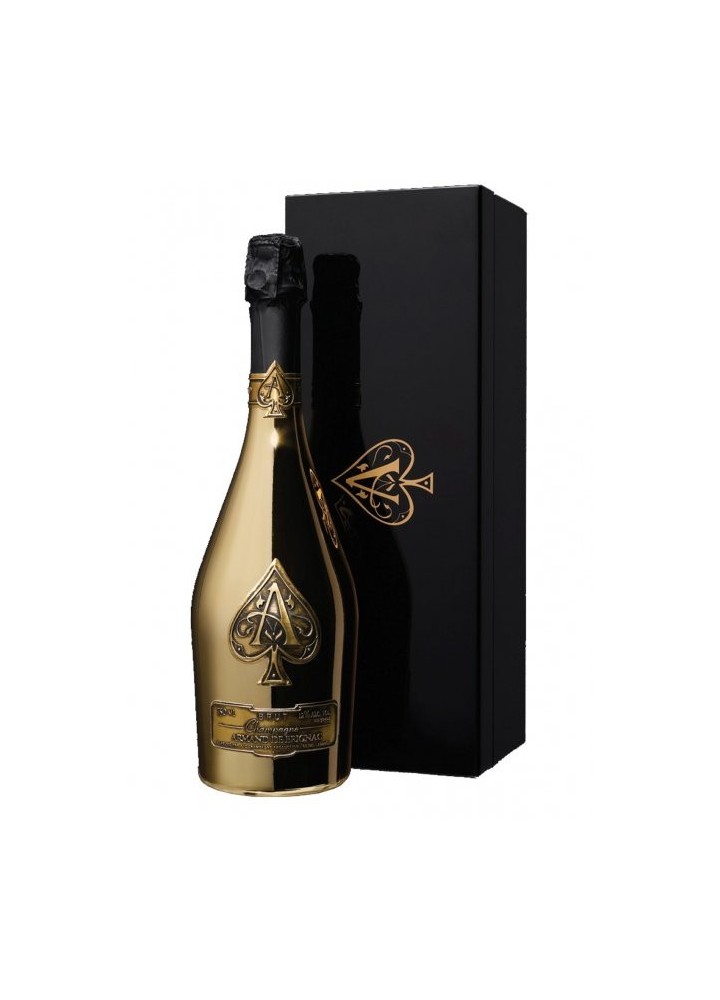  
Armand de Brignac Gold Brut Champagne
Chardonnay (33%)Pinot Noir (33%)Pinot Meunier (33%)
75CL
T° de service : 10°C 

Secured Payment through Paypal, CB via Stripe or directly in store

In-Store Pickup or At Home Delivery
Champagne Armand de Brignac Gold Brut 
This is the best champagne in the world! This is in any case what the reference magazine Fine Champagne and its jury of sommeliers and international experts have estimated, awarding it the exceptional score of 96/100. It is ahead of prestigious vintages such as the Vintage 2000 Dom Pérignon, the Cristal 2002 from Roederer or the Cuvée Sir Winston Churchill 1998 from Pol Roger.
The jury particularly liked the finesse, smoothness, power and minerality of this cuvée.
It was in 2006 that this exceptional cuvée was born, and rather than a birth, we should speak of a resurrection, since the Armand de Brignac brand was created in the 1950s by Mrs Nelly Cattier. Champagne Cattier has therefore decided to revive this brand with an exceptional bottle.
Composed of a third of Chardonnay, a third of Pinot Meunier and a third of Pinot Noir, this unique Champagne is wonderfully complex, and reveals each of the characters of these 3 grape varieties.
The Armand de Brignac cuvée is dressed in a colour commensurate with its excellence, a bottle designed by André Courrèges, gold-plated and adorned with an ace of spades. It is protected by a black lacquered box, also decorated with the famous symbol.
This champagne has a rich and complex flowery nose that highlights the 3 grape varieties that make it up.
On the palate, it is a very fruity champagne which then reveals brioche notes.
Its texture is deliciously creamy and the finish is extremely long.